I know you want a Unicode to Chanakya & Chanakya to Unicode font converter right now, so you are looking for the best Unicode to Chanakya font converter on the internet. If my guess is correct then you have come to the right place.
With the help of our tool given below, you can easily convert your Unicode, Chanakya, Mangal fonts without having to download any application or software on your mobile or laptop.
What is the Use of Unicode To Chanakya Converter?
We all know that Chanakya is a very popular font of the Devanagari script. Unicode, Chanakya, mangal are the most commonly used fonts in India. It is used in various places such as on the pages of magazines, in printing some local newspapers, in printing many government papers. It is also used by many Hindi type artists and DTP operators.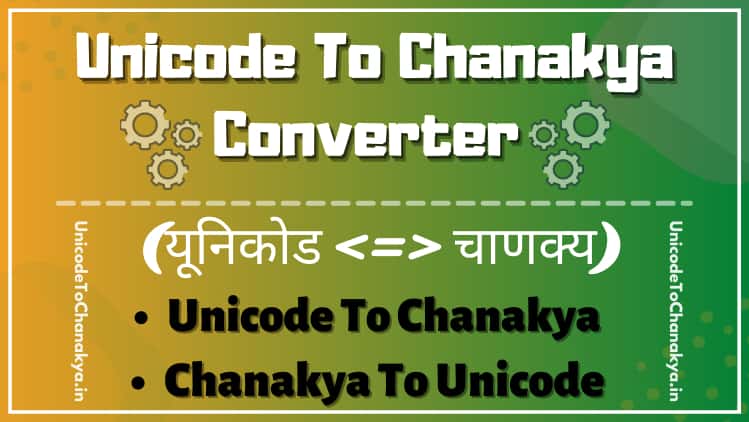 These fonts are also used in many Indian books. You can also use it to write captions so that it looks different and attractive.
How to use this Unicode to Chanakya Converter website?
This font converter tool is quite easy to use and it is also not rocket science. We have explained the steps below with a screenshot so that you can use our website without any problem.
Type or paste your Unicode text in the first box.
Then convert your Unicode text to Chanakya text by clicking on the green button below.
In the box below you will see that you have got your converted Chanakya text.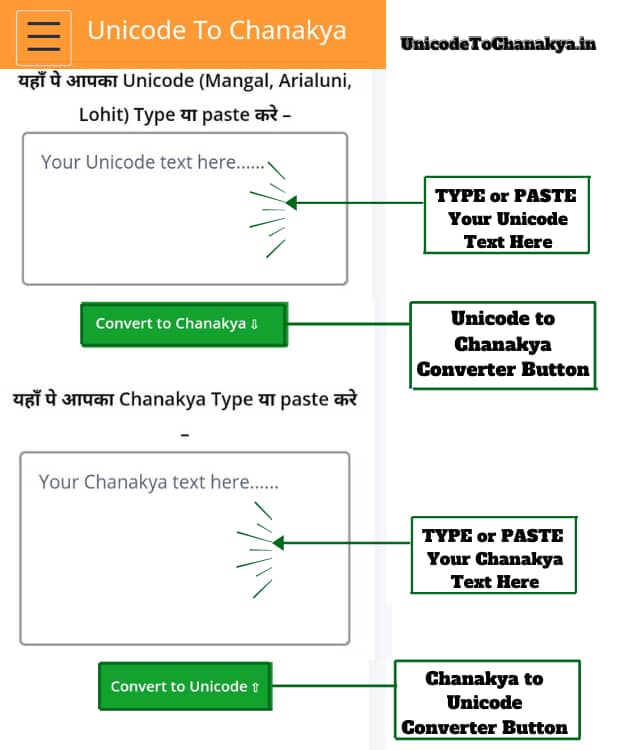 OR, if you want to convert your Chanakya texts to Unicode text, you can do so here. To convert your text from Chanakya to Unicode, do the exact opposite of the steps mentioned above.
Why is our website different from other websites? And what extra benefits do we offer you?
Our website is completely different from other Unicode to Chanakya font converter websites on the internet. Because we have tried to make it as beautiful and user friendly as possible by coding with our own hands.
So, let's see what extra benefit we offer you -
It provides the facility to convert in both ways. It can convert from Chanakya to Unicode as well as from Unicode to Chanakya.
You can convert unlimited fonts with a single click.
You do not need to install any applications, software or fonts.
It easily supports all browsers.
Easy to use design.
Fully responsive website.
This tool is capable of working offline. (But want the webpage to load)
Can I add color to these converted Unicodes or Chanakya fonts?
Yes, it is possible, but I do not know how to do it directly. But I found a simple and effective way.
That's the way it is - you copy your converted texts to a text editor like Microsoft Word, Google Docs, WPS Office and you just change the color of the text and get the color version. This method allows you to get your work done very quickly in a very short time.
Sometimes on social media platforms, we see some people or our friends using Chanakya font or Unicode font to post comments, captions, or pictures. Then it is better to tell you that they generate and use those fonts using our site. So, you can use it by converting fonts from our site, to write captions or to commit someone.
Can I use Unicode on Facebook, Instagram, Twitter & WhatsApp?​
Many people ask us if we can use Unicode font on Facebook, Twitter, Instagram & WhatsApp. I will tell you along with them that you can definitely use this type of font on all social media platforms or massaging apps.
If you still use common fonts in your daily life, you can easily use these types of fonts instead that will help to attract your conversation, post and it's very popular all over social media.
FAQ's On Unicode to Chanakya Font Converter
1) Is Mangal a Unicode font?
Answer: Yes, for Indic script, we can call mangal OpenType font - Devanagari or it is a kind of Unicode. It is designed for use as a UI design font.
2) Why not support this unicode font style?
Answer: There are two possible reasons for this, the first is that the font you are using may be not installed on your computer or mobile, and the second is that the font you want to use maybe not supported by your device.
Conclusion On Font Converter (Unicode To Chanakya)
Converted Unicode & Chanakya texts are not just for newspaper printing, you can use them wherever you want. For example, you can use it on Facebook, WhatsApp, Email, Twitter, MS Word document, to comment or when writing captions on Instagram.
I hope you like this online Unicode to Chanakya Converter tool and you can use it in the right way for your useful work. And don't forget to share it with your friends.
Lastly, if our Unicode to Chanakya font converter (Chanakya to Unicode) does not work, then you can easily contact us at this email id - [email protected] or by visiting our contact us page.
Read more related content:-