Hey, are you looking for Zawgyi To Unicode Converter on online? If YES, than you have to come to right place. Here you will get Best Zawgyi To Unicode Converter For your Moblie, Pc, Laptop or any other device.
With the help of this font converter tool given below, you can easily convert your Burmese font, Myanmar font or Zawgyi font to Unicode font without any problem. The best part is that you don't have to install any software or app on your device to do this.
Type or paste your Zawgyi font in the first box, then click on green convert bottom below.
---
Here you will get your Unicode font 🠗
What is Use of Zawgyi To Unicode Converter?
Usually, most people in Myanmar use this Zawgyi font on their mobile phones or computers. Also In Myanmar, this font is called Zawgyi-One or zawgyi1 font and they are slightly updated from the usual Zawgyi fonts. This font is also called Burmese Font, Myanmar Font in Myanmar and many other countries, like – United States, Thailand.
Although the Zawgyi font is used by so many people, But the problem is it's not supported in many places. This is exactly the reason why people here are forced to use Unicode fonts. Also, we know that Unicode is an international standard font.
How to use this Free Zawgyi To Unicode Converter Tool Online?
Our Burmese/Myanmar Font Converter tool is coded in such a way that a common man can easily convert their Zawgyi font without any problem.
If you have any problem using this tool, you can use it by following the steps given below. See the picture below to know better.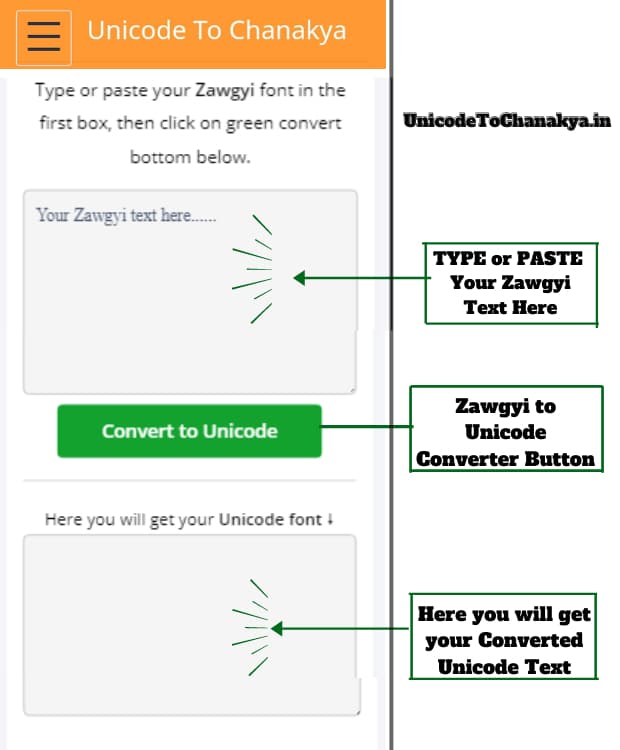 Let me tell you in the first step, To get our website without having to search again and again, For this, you can bookmark our website or save our link to your device.
Write your Zawgyi text in the first box or you can paste it there.
Once you've written or pasted, click the green "Convert to Unicode" button at the bottom.
In the box below you will see your converted Unicode text in the next moment.
Then you can copy your text from there and use it wherever you want.
What is the difference between Zawgyi and Unicode?
There is no such thing as a difference between the two fonts. The biggest difference is that the Zawgyi font is used only in Myanmar and some other countries. On the other hand, Unicode font is an international standard font and it is used by many countries.
You will see on many social media platforms that they do not support Zawgyi font, but very easily they support Unicode font.
What is Burmese font converter or Myanmar font converter?
As we have already told you, Burmese font and Myanmar font are both the same font. Not only that, these are another name for this Zawgyi font. So you can say the Zawgyi font converter and Myanmar Font Converter both are the same.
Conclusion On Zawgyi To Unicode Converter Online
I hope you like it and also know that you can use this tool offline without the internet. One last thing, if you like it, share it with your friends, so that they can use this tool properly.
If there is any problem while converting your font, please contact [email protected] at this email id Or if you find any bug's in this tool, report them to our email as soon as possible.
Read more related post:-